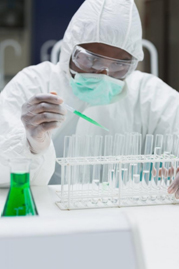 Phoslab Environmental Services performs VOC testing throughout the state of Florida. As a full-service lab, we provide environmental testing services to various industries. Call 863-576-5102 to request more information and a free quote. Read on to learn more about volatile compounds and how Phoslab can help you remain compliant with the strict standards set by government agencies.
VOCs, or volatile organic compounds, are carbon-based chemicals that evaporate readily at room temperature. Many VOCs are completely harmless, such as the scents wafting off of plants, perfumes, or the popular essential oils. Others, like formaldehyde, can be toxic to humans. Certain VOCs, when they react with nitrogen oxides, can produce ozone leading to smog.
To protect against the effects of the dangerous compounds, each country defines what VOC legally means and what levels of certain types are legal. In addition, states set additional standards for acceptable concentrations of regulated VOCs. VOC testing is a way to stay in compliance with these laws.
Determining VOC Content
In the United States, the Environmental Protection Agency (EPA) determines the VOC definition and acceptable limits outdoors. The EPA's goal is to limit the formation of ozone, which is a component of smog.  Other agencies have also adopted VOC regulations, such as the Occupational Safety and Health Administration, which regulates VOC in the workplace, and the Pipeline and Hazardous Materials Safety Administration, which regulates hazardous materials in transportation.
According to the EPA, the VOC definition volatile organic compounds are "any compound of carbon, excluding carbon monoxide, carbon dioxide, carbonic acid, metallic carbides or carbonates and ammonium carbonate, which participates in atmospheric photochemical reactions, except those designated by EPA as having negligible photochemical reactivity."
The EPA definition is broad and VOC is found virtually everywhere. It can be detected in the air or in or on products. Fumes from spray paint or building supplies are a clue of VOC emission but they can be found emanating from finished products as well.
Volatile organic compound list
VOCs are not all harmful but certain compounds with especially low reactivity create smog when they react with nitrogen oxides. The Florida Department of Environmental Protection has determined that more than two dozen VOC contaminants need to be regulated in Florida.
Regulated compounds include
benzene
styrene
toluene
vinyl chloride
Exempt VOC compounds
The EPA has specifically excluded a number of compounds from its definition of VOC because they have little photochemical reactivity. There are hundreds of excluded compounds listed at Code of Federal Regulations Title 40 – Protection of the Environment.
These include:
Methane
Ethane
Methylene chloride
Acetone
VOC Testing
VOCs can be found in solid, liquid, or vapor form so various testing methods are necessary. In each instance, the rate and content of off-gassing of the material is measured. Steps typically include controlling the temperature of the thing or place to be tested; collecting air or emissions for an amount of time determined by the relevant standard; identifying and measuring the VOCs emitted; analyzing the data; and assessing the information in relation to state and federal guidelines.
Volatile Organic Compound Testing Techniques and Analysis
Testing can include:
Identifying types and concentrations of VOCs
Pesticide content analysis
Plastics and polymers testing
Automotive VOC analysis
We can test VOC levels through several methods, ranging in cost and accuracy.
Options include:
Indoor Air Quality – measures air absorbed on sorption tubes or emission of VOC from an object placed in climate-controlled test chambers
Gas Chromatography Mass Spectrometry Analysis – an industry standard method used to identify and measure the components of a compound down to miniscule levels
Our testing meets the standards set by the EPA and American Research and Testing Inc. (ASTM). We always provide the limits of analysis – the smallest measurable unit our testing methods can detect – to ensure the test meets your needs.
Volatile Organic Compounds in Pesticides, Plastics, and Polymers
Testing for VOCs across pesticides, plastics, and polymers requires advanced laboratory capabilities and analytics. Our evaporative emission analysis includes calculations of VOC and non-volatile organic compounds, ratio of aqueous and non-aqueous mixtures, specific gravity, and trace analysis. We also have specialized methods for VOC testing in the automotive industry.
VOC Air Sampling
Because VOCs are compounds that evaporate easily, they are bound to become airborne. Often they are easily detected by smell – opening a container of solvent releases a strong odor into the air. Often, though, they are not detectable by smell alone. It is not just chemicals that release VOCs into the air. Even new furniture or carpets can "off-gas" and the emissions increase the level of chemicals in the air.
Long-term or high exposure to airborne VOCs can be hazardous to the health of workers or other inhabitants. We can provide active or passive air quality monitoring. Samples and data obtained will confirm your compliance with air quality standards or provide much-needed data to help lower VOC emissions.
Phoslab helping Florida remain VOC compliant
Besides the physical and environmental impact of VOCs, non-compliance can be met with steep fines. Florida state hazardous waste fines can range from $100 to $50,000 per violation per day. Improper use, handling, or disposal of products containing VOCs fall into this category.
To discuss your needs, call Phoslab Environmental Services to speak with a professional who can help you determine how VOC testing can help you stay compliant with state and federal regulations.
Learn More about Volatile Organic Compounds at phoslab.com:
Additional VOC Resources: