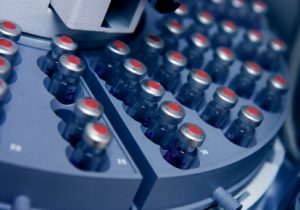 In 1976, the Resource Conservation and Recovery Act (RCRA) was enacted to ensure that the generation, transportation, treatment storage, and disposal of hazardous wastes are carried out in a manner that protects human health and the environment.
The RCRA places the responsibility on waste generators to perform hazardous waste analysis and the requirements they must meet depend on the category of the waste generator, which describe the volume of hazardous waste generated:
Conditionally Exempt Small Quantity Generators (no more than 100 kilograms per month)
Small Quantity Generators (more than 100 kilograms but no more than 1,000 kilograms per month)
Large Quantity Generators (1,000 kilograms or more per month)
The type of hazardous waste generator and characterization of the waste determines:
Handling procedures
Storage limits
Hazardous waste disposal techniques
Record-keeping requirements and reporting
Staffing/personnel
If deemed hazardous, waste must be treated as such at every point in its lifecycle. Noncompliance can result in steep state and/or federal penalties – from hundreds to thousands of dollars per day per violation.
Phoslab Environmental Services offers unparalleled services to assist you in your hazardous waste management. We offer fast and affordable solutions that are tailored to your needs, including detailed reports that help you determine optimal waste handling methods that comply with state and federal regulations.
Characteristics of hazardous waste in the Resource Conservation and Recovery Act (RCRA)
The requirements of RCRA (40 CFR 261.4) apply to all companies generating, storing or disposing of hazardous in the United States. Hazardous waste may be produced as byproducts of manufacturing or simply discarded after a commercial cleaning. Hazardous waste producers may include: large industrial manufacturers, hospitals, oil refineries, laboratories, auto repair shops, photo processing centers, exterminators, dry cleaners and electroplating companies.
The EPA considers waste to be "hazardous" if it exhibits one or more of the following characteristics:
Ignitability – Can it catch on fire?
Reactivity – Might a chemical reaction occur from contact with other waste?
Corrosivity – Will it destroy or damage other compounds it contacts?
Toxicity – Can it poison living organisms?
They have come up with a precise list of components and levels that define "hazardous waste," which your company needs to understand in order to properly dispose of waste in accordance with the law.
RCRA Hazardous Waste List
In addition to substances that meet the EPA characteristics, solid wastes are deemed hazardous if they are specifically defined by the EPA at 40 CFR 261. The EPA lists are divided into groups based on the type of trade that produces the waste. Some of the hazardous substances include:
Used solvents
Dioxin-bearing wastes
Multisource leachate
Wastes from wood preservation
Wastewater treatment sludge
Hazardous Waste Disposal Restrictions in Florida
As authorized by the RCRA, Florida's Department of Environmental Protection (DEP)'s Division of Waste Management carries out the state and federal waste management regulations. Florida has adopted the federal regulations and updates its rules, at a minimum, every year – sometimes more often.
The DEP's primary role is in enforcing the hazardous waste restrictions. This involves:
Issuing permits that conform to the regulations
Inspecting and monitoring operations
Ensuring financial responsibility of hazardous waste generators
Handling waste cleanup and investigation
Overseeing petroleum restoration
Hazardous Waste Testing Compliant with Florida Department of Environmental Protection
As in most areas of the law, ignorance is no excuse; Florida regulations make it clear that hazardous waste generators must know the content of their waste and manage it accordingly.
A waste generator must make several determinations:
Is the waste a "solid waste" under the RCRA? Despite how it sounds, "solid waste" can be a solid, liquid, or a mix, so long as it will no long be used for its intended purpose or must be reclaimed before reuse.
Is the solid waste hazardous? The EPA excludes some solid waste, defines some waste as hazardous, and outlines characteristics that may deem other waste as hazardous.
How should the waste be transported, handled, or disposed of in accordance with the regulations?
Our laboratory works with clients in Florida to make these determinations. We understand how important it is for local businesses to make sure that waste and byproducts are being managed properly.
Toxicity Characteristic Leaching Procedure for Hazardous Waste Management
The EPA's regulations require that the Toxicity Characteristic Leaching Procedure (TCLP) be used to determine the toxicity of waste. TCLP determines the ability of contaminants to move through the soil or groundwater or react with solid waste. Phoslab offers 48-hour and 72-hour TCLP testing identical to the EPA's procedures.
TCLP analysis of a waste sample is a multi-step process that involves:
Separating liquids from solids
Reducing the particle size of solid material
Extracting solids with an acidic fluid
Separating liquid waste from the separated solid waste to be analyzed
Our TCLP analysis assesses eight toxic metals as well as 32 organic compounds to ensure that they fall below regulatory limits.
Phoslab's solid reputation is built on 40+ years of superior service and up to date technology. We have been recognized and accredited by the State of Florida Department of Health and the State Surgeon General. To learn more about how we can address your hazardous waste testing needs, call 863-279-4526.
Hazardous waste analysis resources